Is it just me or have all the complaints regarding the lack of HiRes laptop resolutions that have been thrown at the laptop manufacturers simply fallen on deaf ears?  Since 2012 there have been news items where Linus Torvalds and even Flav-a-Flav complained about the 1366 x 768 resolution joke.  I am sick of finding laptops with seemingly great price points only to be disappointed by the lackluster resolution.  MY $250 MOTO X PHONE has a higher resolution.  WTH!!!
I found this offering from Dell…..  A 14″ laptop with a Core i5.  This is (or should be) a nice laptop….. At $889 there is NO excuse for the low resolution.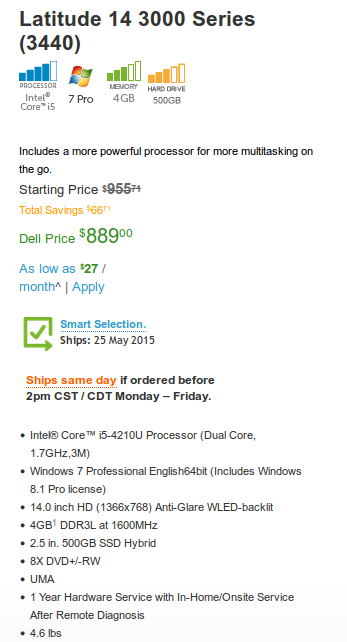 Please, Please, Please, laptop manufacturers…..  Don't forget that platform that lets you produce as well as consume.  I love my laptop, I need my laptop and I want my laptop.  Don't get me wrong, tablets are great for reading or watching some video or playing a quick game, but just try to sit and write a blog or do your budget on one.  Not gonna happen.  (At least not for me.)  And I am cool with the whole convergence thing….  I know the Windows Surface is supposed to bridge the gap between laptop and tablet, but in my opinion, continuing to produce these laptops that are a complete joke, is simply distracting.  Just stop it already.
That is all.